Making of a purchase order is fairly easy by means of below provided purchase order template. We can define a purchase order as a commercial document and an official offer issued by a buyer to a seller in order to finalize a purchase transaction. A purchase order provides basic details about purchase just like type of goods, quantity, specified sum of money as price and payment terms etc. it is a legally binding document between a buyer and seller. When a purchase order accepted by the seller with all terms and conditions mentioned in, it becomes a contract binding on both parties and a seller must provide goods or service to the buyer in order to stay away from a legal action or enforcement by law. Similarly, in the event if the buyer refuses to make payment for goods purchased, the seller is protected because the purchase order is a legally binding contract between both parties and protects their rights equally. A purchase order represents the buyer's intent to purchase specific quantities of product at specified rates.
More about Purchase Order Template:
Purchase orders usually prepared by companies or businesses that purchase raw materials and other services from parties and companies. A purchase order may include unique purchase order number, complete list of products or services, quantity of goods or services, specified price details, requested terms, shipping date, shipping address and payment terms etc. All above mentioned details should be included in a purchase order in order to make it legally binding. Purchase orders are typically prepared and issued to seller when a buyer wants to purchase supplies or inventory in bulk quantity on account. A well prepared purchase order provides legal clarity and concrete instructions for the seller, as well as strong written evidence that can be used as a point of reference for when things go wrong in future. In most of companies depending on the size of business and purchase volume, a dedicated person may be responsible for initiating purchase orders just like a purchasing supervisor. Purchase order template provides a ready to use format that can be used to create error free purchase orders in short amount of time.
Purchase order is one of the most important business documents just like receipts and invoices, so it should be formatted properly with complete amount of details and information. Purchase order is similar to a sales receipt and also consists of alike details. Different between both documents is that purchase order is prepared by buyer and sales receipt is prepared by seller to document a transaction into writing. Companies on large scale are using costly software and devices to make up purchase orders automatically. Whereas, small businesses and companies prepare purchase orders manually because they cannot afford software. Hence, utilization of purchase order template lessen their efforts when making purchase order on personal computer. A ready to use purchase order template is available here on this page for free and can be customized in MS word easily according to a business's needs.
Download Purchase Order Template: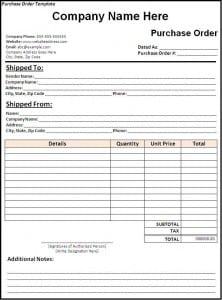 Further aout Purchase Order Templates
In our collection of templates, purchase order template is also added that can be downloaded free of cost. Purchase order is a vital document prepared by the company or individual person that is ordering goods. It is also known as a first offer made by the buyer to buy goods or services from another business or company. It is usually prepared and issued by companies or businesses that buy goods, material or services in bulk quantity for fulfillment of their professional needs. A well prepared purchase order may include details and information about purchase like items being ordered, the quantity, delivery address, agreed price and terms & conditions of purchase etc.
Purchase orders usually prepared by the employee of company who is responsible for purchase of goods and known as purchase supervisor. Sending a purchase order to a seller or supplier constitutes a legal offer to buy products or services as mentioned price in the order. Acceptance of the purchase order by the seller usually forms a legally binding contract between the buyer and seller. As we all know that purchase order is a legal document, everything needs to be clear mentioned in it just as to what is being purchased, where it is to be delivered and what the price is and other terms etc. Implementation of purchase order system can provides lots of benefits to the company or business. Purchase order also contributes to manage your accounts payable fluently by letting you know how much will have to be paid out during a certain period of time regarding purchase of goods or any other material for the company. Purchase orders help a business or company a lot in both inventory management and payment tracking.
Purchase order has infinite advantages for both buyers and sellers. Having a purchase order, sellers are protected in case of a buyer's refusal to pay for goods or services ordered in the purchase order and seller can go to the court of law to get compensation. Majority of companies are using expensive software and computer programs to prepare purchase orders automatically but a small business owner cannot afford such costly software to do so. Hence, utilization of below provided purchase order template is a reliable option for them to make faultless purchase orders in short amount of time. A user will be able to customize the template using Microsoft excel to make essential changes in it.