In this modern era of computer and technology there is wide range of ways and techniques of communication is available to provide important and useful information about something like a business, company, product, service, event or occasion etc but posters are still stated as most effective and inexpensive way to spread information about all above mentioned things. Since posters include mainly text and sometime graphics if necessary, it can help readers easily to understand about the message that you want to convey. Not only in business life but posters can help you a lot in your personal life in various situations. In the same way wanted poster is a famous type of posters normally created with the help of wanted poster template and used to inform the locals and general public about a criminal that is wanted by law enforcement agencies or any other authorities. The basic purpose of a wanted poster is to let the public know about the fact that law enforcement agencies or legal authorities of the town or territory are looking for the mentioned person in poster. Hopefully you will like this Wanted Poster Template.
Generally wanted posters have been posted or hanged in public places such as shopping centers, bus stands, police stations, post offices and in front of government offices etc for the information of public. Through this way public can help a lot the law enforcement agencies to recognize the wanted person if spotted somewhere. Information in a wanted poster may include name of the wanted person, a photograph or drawing of him/her, the crime for which the person is wanted and other identifying characteristics that may help someone to recognize the person mentioned in wanted poster just like height, color and weight etc. On another hand you can also design a wanted poster for a family member, friend, child, pet or anyone else who may be unable to find. I am sure a well made wanted poster with all details will help you to find wanted person or anything else quickly. Wanted poster template is a super fine way to design a perfect wanted poster for any reason.
Wanted poster is a powerful tool for anyone to find anything wanted in short time. If you want to design a wanted poster personally and have no idea about how to design well, don't worry about it because you can design it at home by using word processing software like Microsoft word. Another best option to do this use of a well made wanted poster template because it is something that enables you to create an elegant wanted poster in very short span of time. Mostly wanted poster templates comes in word format which mean a user can edit the template in Microsoft word software according to the needs. Many websites offer their handful services to design wanted posters online. Use of wanted poster template makes it very easy and simple for you to design error free wanted poster in an organized format. Just start an appropriate wanted poster template and make necessary amendments to make it your personal. This Wanted Poster Template will be really helpful.
Download Free Wanted Poster Template: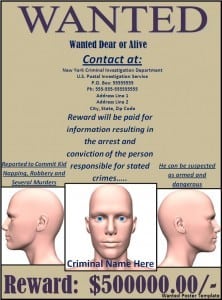 Here is the link